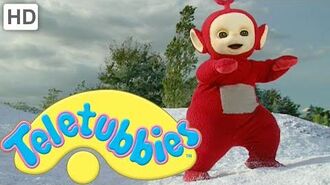 Dipsy remembers the snow. The Teletubbies watch some children gospel singing and go into the snow. They are walking very carefully because the snow can be very slippery. When Tinky Winky slips, he begins to slide. It looks like fun so the other Teletubbies slide in the snow too. Laa-Laa wants to slide too so she slips and slides down the snow. It is Po's turn so she slides down the snow too. Tinky Winky, Laa-Laa and Po want Dipsy to play sliding, but he is too scared until he slides down the snow. He is not scared anymore when the other Teletubbies and narrator say "What clever sliding".
Featuring: The New Testament Church of God, Birmingham
Trivia
This is the second time Dipsy is scared of something.The first time was the skirt in Numbers - 1.
Po was the boo shouter
Dipsy was the missing teletubby
Ad blocker interference detected!
Wikia is a free-to-use site that makes money from advertising. We have a modified experience for viewers using ad blockers

Wikia is not accessible if you've made further modifications. Remove the custom ad blocker rule(s) and the page will load as expected.