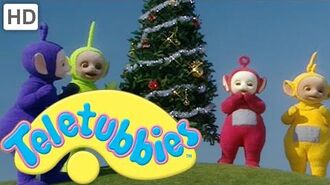 The Teletubbies listen to a voice trumpet saying "Christmas is a coming" and watch as some children select a Christmas tree and decorate it. Then the Teletubbies learn about Christmas when a Christmas tree magically appears in Teletubbyland. And four presents appear on the tree, one for each Teletubby. Now the Teletubbies have their own Christmas presents and were very happy.
Featuring: Lewis Evans, Elliott and Jazzmin Fairhurst-Groethe and Anne-Marie Tuckwell
Trivia
Tinky-Winky was the missing teletubby
Laa-Laa was the boo shouter
GOOF: After the Voice Trumpet goes down and the Windmill spins, when the camera cuts back to the house, the Voice Trumpet has reappeared.
Ad blocker interference detected!
Wikia is a free-to-use site that makes money from advertising. We have a modified experience for viewers using ad blockers

Wikia is not accessible if you've made further modifications. Remove the custom ad blocker rule(s) and the page will load as expected.