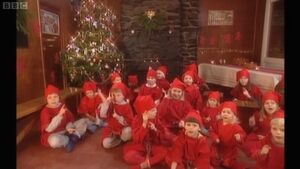 Po remembers the snow and looks outside through the window at the snow. She rushes to the other Teletubbies due to the Windmill Spinning and all the Teletubbies watch some Finnish children sing "The Elves' Christmas Night." When the Teletubbies take a walk and look at the things that are covered in snow, they find out that their favourite things are covered in snow, too. First, Tinky Winky finds his bag. Second, Dipsy finds his hat. Third, Laa-Laa finds her ball. At last, Po finds her scooter. Afterwards, the Teletubbies are happy playing with them. Po rides too fast and slips around Teletubbyland and crashes into a tree, which covers her in snow when she says "Uh-oh!" and then giggles all the time. The other Teletubbies go find out what happened. When Tinky Winky, Dipsy and Laa-Laa find something covered in snow and they don't know what it is, Po pops out of the snow when she sits up and they all have a Big Hug.
Featuring: Tuomas, Natias, Katarina, Sofia, Aleksi, Daniel, Alexander, Mika, Anni, Vilma, Jaaskelainan, Henrietta, Emma, Tuuli, Ella, Hanna, Riku, Suvi and Annika
Trivia
Tinky Winky was both the missing teletubby and the boo shouter
Episode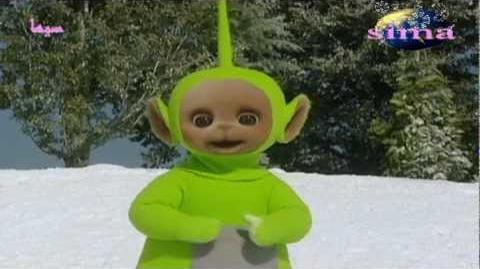 Ad blocker interference detected!
Wikia is a free-to-use site that makes money from advertising. We have a modified experience for viewers using ad blockers

Wikia is not accessible if you've made further modifications. Remove the custom ad blocker rule(s) and the page will load as expected.