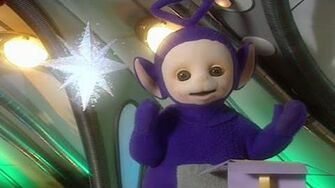 It's Christmas, and a group of children sing some Christmas carols to the Teletubbies. Tinky Winky opens his present to find a beautiful star inside, which the Teletubbies follow all over Teletubbyland. Where will it end up?
Featuring: The Children of St Charles Primary School, Gosforth
Watch Episode
Trivia
The first Christmas carol that the children sing is called Here We Go Up to Bethlehem, which is sung to the tune of Here We Go Round The Mulberry Bush. 
Po was the missing Teletubby
Dipsy was the boo shouter
The TV segment was filmed in Monument mall in Newcastle. But in 2015 this was changed into Jamie's Italian resturant
Ad blocker interference detected!
Wikia is a free-to-use site that makes money from advertising. We have a modified experience for viewers using ad blockers

Wikia is not accessible if you've made further modifications. Remove the custom ad blocker rule(s) and the page will load as expected.