Bumps

Number

377

Air Date

24 November 2015

Director

No information

Previous

Next
The Teletubbies have fun bumping into one another and watch children in Tummy Tales play in bumper cars.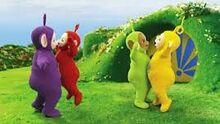 Trivia
This is the twelfth episode of the new series
Dipsy was the missing teletubby
Po was the boo shouter but Laa Laa said goodbye for a final time.
This episode aired in the US on June 7, 2016.
This is the 1st ever episode directed by Richard Bradley.