Being Very Quiet is a Teletubbies segment, it appeared in the episodes Larette Tap Dancing and The Gingerbread Boy
Plot
The segment begins with the Teletubbies lying on the floor in front of the control panel. They look up at the camera and say: "Eh Oh!" quietly. They are being quiet. Every now and again, they giggle and then look up at the camera and say: "Shh!" The Noo-Noo watches them, however, he decides to be noisy by making his usual sucking and slurping noises. Suddenly, the Teletubbies look to see the Magic Windmill spinning in the distance. This time, they say: "Uh Oh!" loudly and laughing happily, they run out of the house to watch the Magical Event.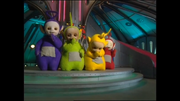 Alternate Ending
In The Gingerbread boy, the TV Reciever event replaces the Tap Dancing Teddy Bear, to add this, The Magical Event noise is replaced with the TV Reciever event whooshing when the Original Window Animation appears and also the TV Reciever music has been added when the Teletubbies say Uh-Oh! and run out of the door.
Trivia
The Original Window Magic Windmill appearence appears in this segment in both of this segment's appeearance, those episodes are Larette Tap Dancing and The Gingerbread Boy
If you look closely, the actor's/actresses' knee caps stick out where the knees of the teletubby costume are seen when the Teletubbies look up and shush the audience.