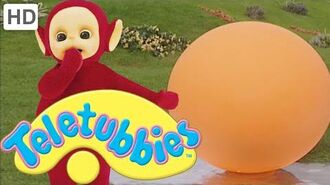 Dipsy is not amused when the Noo-noo eats his hat. The Teletubbies watch as Debbie shows a group of children some ball games. Laa-Laa's ball goes in a puddle, and she needs Po's help to get it back before The Magic Windmill spins and the Teletubbies watch The Three Ships. The Magic Windmill stops spinning and the Tubby Bye-Bye sequence takes place.
Featuring: Debbie Ivens, Olivia Allen, Olivia Trangmar, Edward Mitchell, Katherine, Michael and Paul Vanner, Aaron Sharma, Charlie Walsh, Natasha and Harry Garrood
Trivia
This is the last appearance of Debbie
Dipsy was the missing teletubby
Po was the boo shouter
When Laa Laa fails to reach her ball that's in the puddle, she says; 'Bibblycheese!'
Ad blocker interference detected!
Wikia is a free-to-use site that makes money from advertising. We have a modified experience for viewers using ad blockers

Wikia is not accessible if you've made further modifications. Remove the custom ad blocker rule(s) and the page will load as expected.