Babies

Number

370

Air Date

13 November 2015

Director

Jack Jameson

Previous

Next
The Teletubbies eat tubby custard and ride the Custard Train around Home Dome. A child in Tummy Tales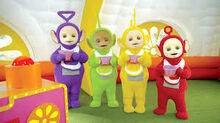 tries to make his baby sister laugh. The Teletubbies play with the Tiddlytubbies. Po loves the Tiddlytubbies. Teletubbies love each other very much.
Trivia
This is the fifth episode of the 2015 series.
This the first appearance of the Tubby Custard Train and the Tiddlytubbies
This episode pretty much confirms that the Teletubbies are full grown adults and the Tiddlytubbies are babies.
Dipsy was the missing teletubby.
Po was the boo shouter but Dipsy said goodbye for a final time.
This episode aired in the US on June 1, 2016.