The ABC (Australian Broadcasting Corporation) is a channel which picked up Teletubbies on February 16th, 1998. It was part of the Kids block since 1998. The first VHS ABC released was Here Come the Teletubbies. It aired in ABC Kids from 2002 - 2009, But it got removed from the channel on March 2, 2009 (because the show was old along with Other Ragdoll and non ragdoll shows). Picking Chillies (Spain) was the last episode which aired on ABC. Although Teletubbies merchandise is still on ABC Shop. On January 4, 2016, the reboot series premiered. On May 13, 2016, ABC Shop released the DVD Making Friends on June 1st and new Teletubbies toys were released on May 4th, 2016.
Promos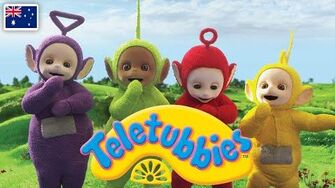 Ad blocker interference detected!
Wikia is a free-to-use site that makes money from advertising. We have a modified experience for viewers using ad blockers

Wikia is not accessible if you've made further modifications. Remove the custom ad blocker rule(s) and the page will load as expected.