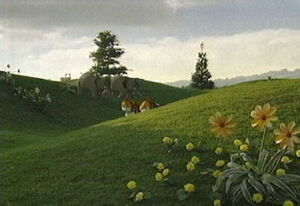 Dipsy calls the other Teletubbies for a Big Hug. Then the Teletubbies watch some children listen to a lady tell a story about four friends. She uses her hands to help tell the story. The Teletubbies do the Stretching Dance and watch the Animal Parade before Tubby Bye-Bye.
Featuring: Vinata Godbole, Radhika Bali, Anuska Mehta, Annabel Johnstone, Neiko Ali and Anthony Spiers-Fitzgerald
Trivia
This is the last episode to have the Stretching Dance.
Tinky Winky was the boo shouter.
Dipsy was the missing teletubby.
Watch