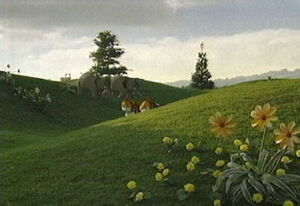 Dipsy and Laa-Laa play at the Control Panel. Then the Teletubbies watch some children pretend to be animals with Stickman. Then the Animal Parade appears before the Teletubbies do the Follow the Leader Dance.
Featuring: David Stickman, Children from Haydn Road Nursery, Nottingham
Trivia
This episode is the first appearance of Stickman.
The Dipsy and Laa-Laa playing at the Control Panel segment was featured in the rare VHS Magical Surprises.
Laa Laa was the missing teletubby.
Dipsy was the boo shouter.
After the Animal Parade, the camera cuts to the next scene without the sun.
Watch