Andy Brown is a character from Teletubbies. He loves to teach children about animals. He only appears in TV Events. He also only appears usually in episodes that have to do with animals. Like the other TV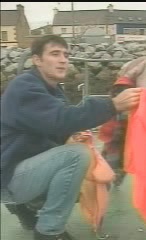 Event characters, he loves the Teletubbies.
Episode Apperances
Trivia
Andy's name is shown in the credits of Feeding the Sheep in Winter and Hedgehogs even though he does not appear in those episodes.
He appeared in 32 episodes of the original series.
Gallery