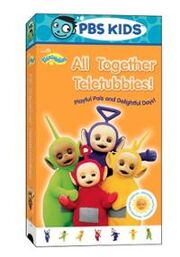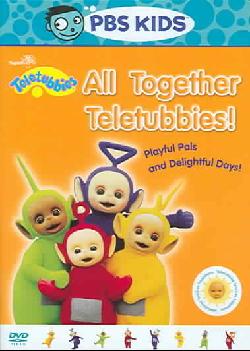 All Together Teletubbies! is both a VHS and DVD. This was released exclusively in the US.
Featuring: Luke Adcock, Paige James, Jack & Karen McGee, Caroline, Chika & Osita Nwaoloko, Katrina & Tina Kotton & Katie Munkdale
Teletubbies Everywhere- International Inserts: CHILE- Discovery Network Latin America, MOROCCO- Ahmed Bouiare 
Teletubbies Everywhere
Teletubbyland Segments
Special Features
Trivia
Dipsy was the missing teletubby and boo shouter but with the Tinky Winky ending.
The same error with the audio from the Dot ID in the Dash ID was also used at the end of this tape.
Ad blocker interference detected!
Wikia is a free-to-use site that makes money from advertising. We have a modified experience for viewers using ad blockers

Wikia is not accessible if you've made further modifications. Remove the custom ad blocker rule(s) and the page will load as expected.