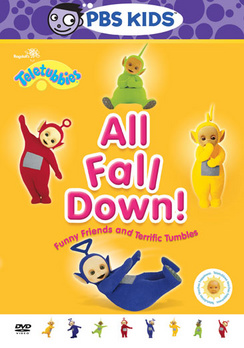 All Fall Down was a Teletubbies DVD released exclusively in the US.
Featuring: Adele Penny with Bradley Fernandes, Laura Highcock, Amy Morin, Vivian Parnell-Murphy, Shona Patel-Mehta, Ian Paterson, and Natalie Shepherd & The Children of Bartiemas Nursery School, Oxford
Teletubbies Everywhere- International Inserts: NAMBIA, SPAIN
Teletubbies Everywhere Segments
Teletubbyland Segments
Special Features
Trivia
Dipsy was both the missing teletubby and the boo shouter.
This was the last Teletubbies video and series to be released on DVD.
Ad blocker interference detected!
Wikia is a free-to-use site that makes money from advertising. We have a modified experience for viewers using ad blockers

Wikia is not accessible if you've made further modifications. Remove the custom ad blocker rule(s) and the page will load as expected.