Not to be confused with the 2016 episode of the same name.
Again-Again! (Terrific Times and Fanastic Fun)

Directors

Vic Finch

Paul Gawith

Previous

Next
Again-Again!
is a Teletubbies DVD/VHS released in 2003 (2004 in America) by BBC and Ragdoll Productions.
Featuring: Children from Taunton Street Children's Centre, Manchester, England, Augustus Betz, Leia Kennedy and Duncan Mackinnon
Teletubbies Everywhere- International Inserts: INDIA- Chyealis Films, WALES- BBC WALES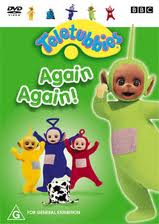 Includes
Teletubbies Everywhere 
Rolling Wheels (India) (US version only)
Feeding the Lambs (Wales)
Teletubbyland Segments
Five Voice Trumpets play music (From Tropical Fish)
Dipsy's Special Dance (From Indian Dancing, cut from main feature in US Version)
The Teletubbies practice Skipping (From Skipping, US version only)
Po rides her Scooter (From Fox Cubs)
Tricycles
Laa Laa plays indoors and the other Teletubbies play outdoors (From Welly Walk)
Playing with Dough
Tubby Custard Machine won't work (From Milking the Cows)
​ Special Features for US Version
Obstacle Course
Dipsy's Special Dance
Watch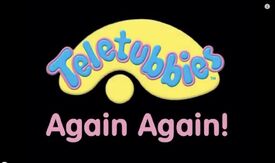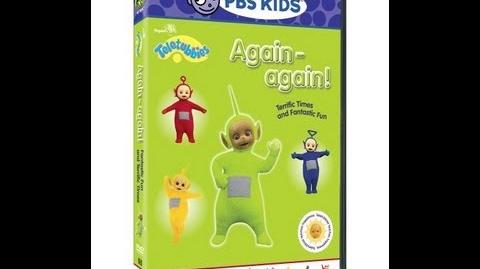 Trivia
The UK and US cover are both Green and Dipsy is the closest.
This DVD/VHS also features A rare animation of the Windmill.
Dipsy was the boo shouter in the UK and US but then Tinky Winky ending.
Dipsy was the missing Teletubby in both versions
​Cover gallery
Ad blocker interference detected!
Wikia is a free-to-use site that makes money from advertising. We have a modified experience for viewers using ad blockers

Wikia is not accessible if you've made further modifications. Remove the custom ad blocker rule(s) and the page will load as expected.