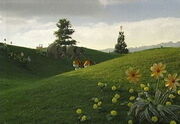 Tinky Winky and Laa-Laa run in and out of the house and have Big Hugs. Then the Magic Windmill spins and the Teletubbies watch
The Animal Parade
. Afterwards, the Magic Windmill stops spinning. Dipsy and Po run in and out of the house and have Big Hugs. The Magic Windmill starts spinning again and the Teletubbies watch some children dance an African dance. The Teletubbies perform a Skipping Dance before Tubby Bye-Bye.
Featuring: The Children from Umthombo Theatre Group, Plettenberg Bay, South Africa
Watch Episode
Trivia
This is the last episode to have the Animal Parade.
This is the 3rd and last episode to have a Magical Event before a TV Event. The other episodes are Larette Tap Dancing and Going In and Coming Out.
This is the only episode where the windmill stops spinning at the beginning of an episode.
Laa Laa was the boo shouter.
Po was the missing teletubby.