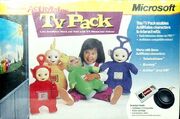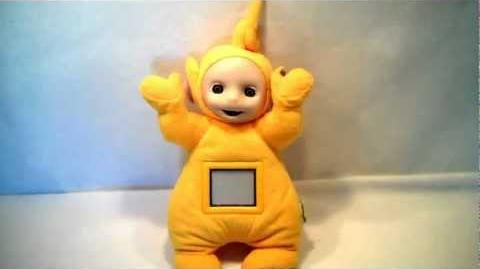 ActiMates'
were interactive plush toys manufactured by Microsoft from 1997 to 2000 that talk, sing, move and play games. They were marketed as interactive learning tools for children aged 1-4. There were seven ActiMates: Barney (released in 1997) Arthur and D.W. (1998) and the four
Teletubbies
(
Laa-Laa
and
Po
in February of 1999,
Tinky Winky
and
Dipsy
in Summer of 1999). Unlike the Barney, Arthur, and D.W. ActiMates dolls, ActiMates Teletubbies didn't contain robotics. Instead, they contained a 3 Color LED screen in place of their TV Tummies. Pictures, Letters, Numbers, and Colors are displayed in Green, Yellow and Red. The Teletubbies were unique: each one had 17 unique songs and 20 unique games with minor exceptions (Tinky Winky, Laa-Laa and Po Play Twinkle Twinkle, and Dipsy does not. Tinky Winky and Laa-Laa play the
Tubby Toast
game, Dipsy and Po play the
Tubby Custard
game, etc.). Each time the Tummy Screen was pushed, a song would play. Pressing it again before the song ended resulted in the song being played again, this time on a different instrument (Three different instruments are available). Each song had a unique animation. For example: If a song was playing, like Itsy Bitsy Spider, It would show a red circle going up (the spider), then little green lines going down (the rain) Followed by a big rising yellow circle (The Sun) and the red circle once again. If a song like Wheels on the Bus was playing, it would show a yellow rectangle moving across the screen (the bus), with the spinning small red circles (the wheels), and the yellow rectangle moving across the screen again. Pressing any hand and any foot at the same time selects a game. Repeated presses cycle through a list of games, each defined by a unique image in green. Pressing a foot or a hand alone starts the game. Though ActiMates Teletubbies are great stand-alone toys, Microsoft released the T.V. Pack In 1997, and again in 1999 as the ActiMates Teletubbies compatible version. This version included a special radio cartridge that inserts into the slot beside the battery chamber that enabled the Teletubbies to interact with VHS tapes and Daily Airings of Teletubbies (On select PBS Stations). Though PBS no longer airs ActiMates compatible shows, The VHS tapes are still functioning. The T.V. Pack increases the vocabulary of the Teletubbies by about 200 words and 6 songs. The ActiMates line also introduced the P.C. Pack, a blue version of the T.V. Pack which was compatible with ActiMates Barney, Arthur and D.W. P.C. games. Teletubbies Software was never released due to the poor sales of the Teletubbies and the ActiMates line itself.
Ad blocker interference detected!
Wikia is a free-to-use site that makes money from advertising. We have a modified experience for viewers using ad blockers

Wikia is not accessible if you've made further modifications. Remove the custom ad blocker rule(s) and the page will load as expected.